Smart Online Order VS Clover Online Ordering
Pros vs. Cons
Which Is Right for My Business?
Choosing the right online ordering system for your Clover can be a daunting task. There are many variables to consider like price, customization, and efficiency. It can leave you scratching your head on which system will be most beneficial for your business. To make the decision-making process a little easier, we have compared Smart Online Order with Clover Online Ordering to help you find the most bang for your buck. 

Smart Online Order Pros:
Personalization: Smart Online Order allows merchants to upload their own images and add to their categories and items to advertise their products.  Allowing for items to look even more enticing from visuals and additional food details such as ingredients.
Advanced Scheduling: Customers can schedule orders in advance. Advanced scheduling is a valuable feature for those in the restaurant industry. Smart Online Order knows customers have just as busy of a schedule as the rest of us. That's why it's important to give them the ability to schedule their orders and pick a time and date. Now they can easily pick up without having to worry about calling ahead!
Hide Categories/Items: If there are specific categories or items that a merchant wants to remove from the customers perspective, such as an in-house only or out of stock items, they can easily hide them. This feature can come in handy when merchants would like to provide their products at only certain times during the day. For example, a merchant might want certain items to show up for breakfast or lunch, but not in the evening for dinner.
Delivery: Smart Online Order provides the tools for merchants to offer delivery services. Merchants can create multiple delivery zones and even charge a separate delivery fee for each zone. The delivery feature is included with Smart Online Order without any extra cost, and avoids any third-party delivery services and fees like DoorDash or GrubHub.
Customizable Interfaces: Merchants have between 4 different interfaces to choose from for their Smart Online Order page. Meaning, merchants can further customize the look of their Smart Online Order's interfaces to fit the merchant's brand. Merchants have the freedom to have their menu look personalized to their company's look and feel. Changes can be done easily with no problem.
Tech Support: Smart Online order offers highly reviewed customer service tech support. Our team is available for merchants seeking assistance. We offer many resources to merchants if they have an issue, including live chat, email, phone calls, video tutorials, or meetings.
Branded Mobile App: We offer Branded Apps for your business that are directly sync in with our client's pre-existing Clover. Having a branded mobile app is a great way to invest back into a business since many benefits come with owning a mobile app, including not having to pay any additional third party feels.. The app can be integrated into a branded app representing the merchant's business without including any third-party companies like Yelp or DoorDash. The mobile app service is offered at an affordable price as well.
Text Message your Customers: With Smart Online Order you can easily text your Customers in Real Time, letting them know their Online Order is Ready. You can also write them custom text messages to provide them updates, in case their order needs more time.
Social Media Marketing: We also offer Social Media marketing to help promote your brand and services. This seamless integration allows our marketing team to direct traffic to your business. We employ popular trends and hashtags to make your customers  aware that you exist. Furthermore, our team of experts make sure your brand and message is always delivered and portrayed in the right way.
Want to learn more about Smart Online Order features: Click Here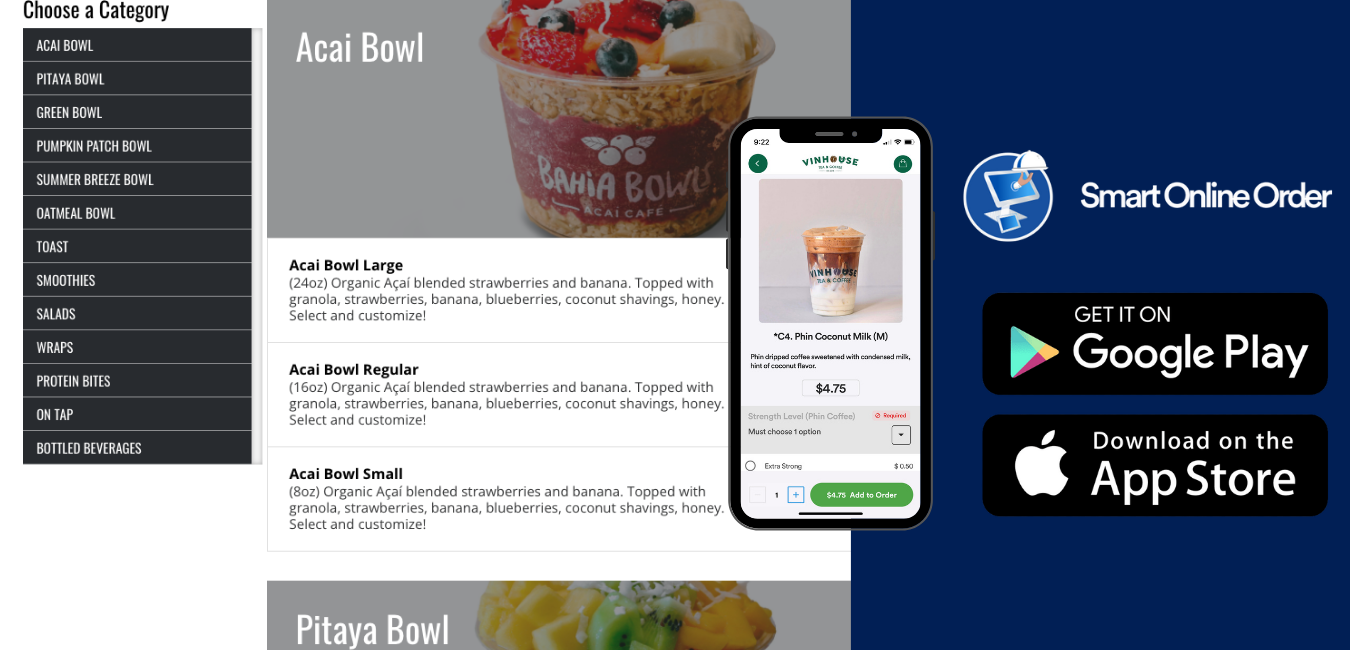 Smart Online Order Cons:
Manual Sync Inventory: Smart Online Order does not auto sync the modifiers or categories and taxes. Therefore, when a merchant makes changes to their modifiers on their Clover Inventory, they will have to press the sync button so those changes are reflected Online. However, this is a small inconvenience, as most merchants hardly change their modifiers, and if they do, pressing the sync button is not a big concern.
Subscription Fee: Smart Online Order does require a subscription fee for its service to keep up with necessary maintenance, offer personalized tech support, innovate, add new features, etc. If customers don't wish to pay any fees, Smart Online Order has a feature to pass the fee to the customer; making it completely free. Call for more details.


Clover Online Ordering Pros:
Free to Install with No Subscription Fee: Clover Online Ordering is available for free for all of Clover's merchants. In addition, merchants do not have to pay any additional third party fees per order or monthly payments like other online ordering platforms. Making it cost-effective for businesses, especially restaurants, to save on online ordering. This is an excellent option for merchants of all budgets.
Easy Setup: Setting up a clover online ordering system is quick and easy. Merchants typically have their online ordering ready within a few minutes since Clover pulls the data from its inventory and creates a menu. Merchants then are able to customize their online Clover menu to show items to be ordered by customers. The best part is that you only need to have a Clover account to set it up.
Auto-Sync Inventory: Whenever changes are made to a merchant's inventory on their Clover, the online ordering system will automatically update those changes. For instance, adding a new category or changing the price on a certain item will instantly sync live on Clover's online ordering platform. This means customers will not accidentally buy an item that is out of stock when checking out, one less thing for merchants to worry about.
Clover App: Customers can download the Clover app from the iOS or Android marketplace and order from merchants on the Clover app. A service offered to merchants that is included when they sign up for online ordering. Convenient for customers who want to order from the merchant directly.
Clover Online Ordering Cons: 
Personalization: Unfortunately, Clover Online Ordering does not allow businesses to customize their online ordering page to represent their brand. The online ordering system will only show Clover's brand using its color scheme and design, which leaves no room for businesses to personalize their online ordering page.  
No Pictures/Descriptions: Clover Online Ordering does not allow merchants to add their pictures or descriptions to their categories and items. Not showcasing your products makes it difficult for customers to order from businesses, especially restaurants since customers rely on images to decide what food to order.
Works Only With One Printer: Orders made by online customers can only be printed onto one printer. This limitation prevents merchants from using their kitchen printers and other Clover devices to print online orders. It is an inconvenience for merchants who need the ability to separate their receipts to different printers to organize their incoming orders.
No Custom Branding: Clover Online Orders uses a generic template for all Restaurant owners, which makes it hard to stand out. Furthermore, restaurants can't customize the colors. 
Can't Pay at Location: With Clovers Online Orders, customers can't pay at location, they must always pay with Credit Card beforehand. Smart Online Order allows customers to offer both options, pay at location and pay with Credit Card in Advance.
No Inventory Tracking: Clover Online Orders doesn't have the ability to track stock. If an items get sold Online, the inventory is not deducted from the Clover inventory. This can result in customers purchasing items that may no longer be in stock
No Text Messaging Customers: Clover Online Orders does not allow you text your customers when their Online Order is Ready any other updates you may want to provide to your customers using Text Messaging. Smart Online Order allows you to Text your Customers in Real Time to give them a great experience letting them know their Online Order is Ready.
Here are 14 things to consider when choosing an online ordering app for Clover: Click Here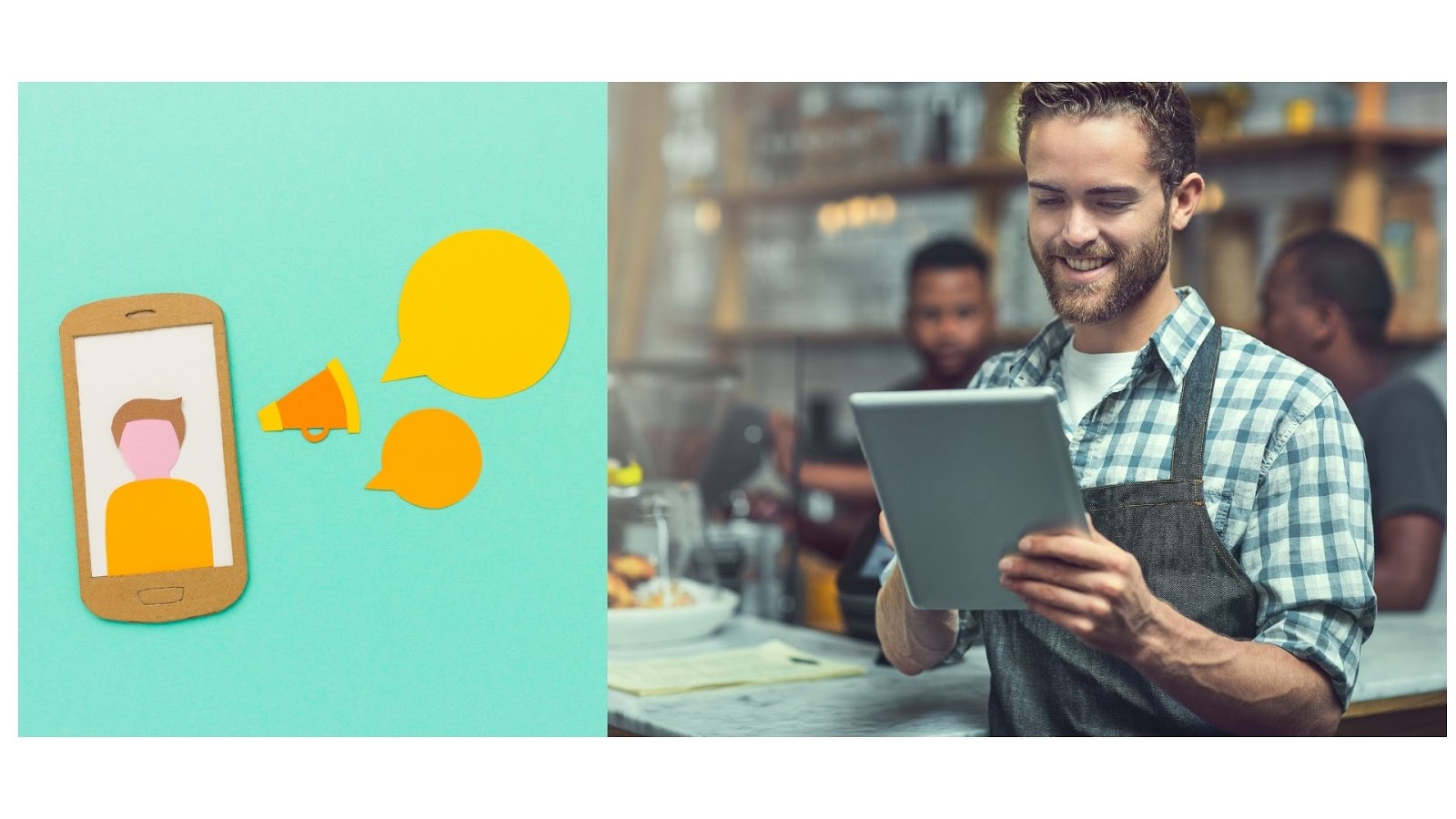 Smart Online Order is constantly updating its application and adding new features. If there is a feature you are seeking, chances are we may already have that feature or are currently working on it.
Other Blogs.
Best Online Ordering for Clover
How to Accept Online Orders with Clover POS: The Ultimate Guide
Give us a call or Schedule a Free Meeting to Learn More
Other Services: We also offer Social Media Marketing and Branded Apps. Please call us for our latest offers.
Khalid Saleh is the CEO of Zaytech. He understands that behind every great technology is a great team. He believes that having the right team and a great culture is foundational to making great products.
When he is not working, he enjoys learning, reading, and spending time with his family.