Kiosk for Smart Online Order
Turn your spare Clover device into a kiosk to take orders in-store without having to have staff run your register.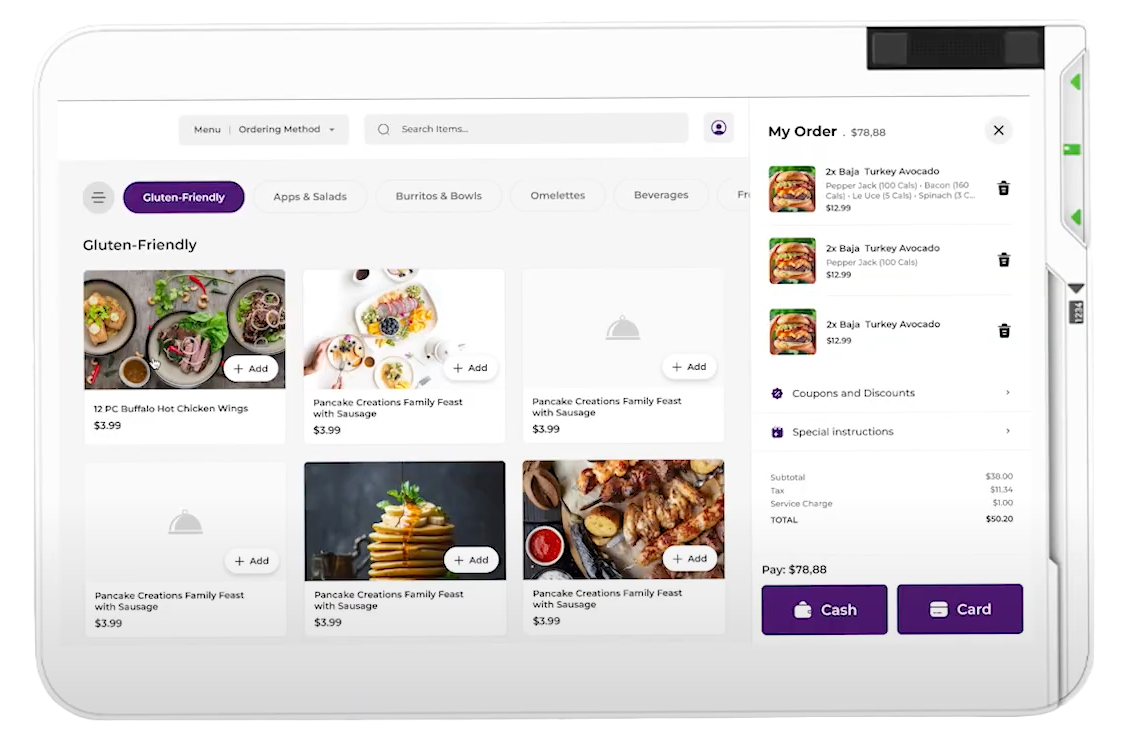 Kiosk features with no kiosk hardware required
Zaytech's Smart Online Order Kiosk software allows you to be able to turn your own Clover Devices into standalone kiosk devices that allow your customers to order and pay for their order directly on your Clover Device with no additional hardware required which will save you both time and money allowing for further expansion of your business.
Don't wait, add kiosk functionality to your Clover Devices today!
The Pros of using a kiosk for your business
Works for you and your Clover devices
Eliminate Cashier Position
With the use of a kiosk, you can eliminate the position of cashier which can save you both the time and money it takes to hire and train an employee as well as eliminate their pay.
Easy to setup
All you need to do is install and then customize the kiosk to your liking, the software will pull the inventory directly from your Clover inventory.
Speedy Checkout
As clients are able to checkout faster as they no longer have to order through a cashier they are able to order and checkout at their own pace which can speed up the checkout process significantly.
Increased Profit
With your clients being able to see your entire menu as compared to attempting to quickly order with a cashier they are more likely to see new items and purchase items they may not have purchased before through conventional ordering methods.
Increase Customer Satisfaction
With the customer able to order by themselves it eliminates the chance of a cashier accidentally ordering the wrong items for them allowing your food to be the only thing they focus on thus increasing customer satisfaction.
Reduce Wait Time
With clients now able to order by themselves it can reduce the wait time of customers ordering with a cashier as compared to ordering by themselves which in turn allows you to receive more orders from potential clients.
Made by a trusted developer
Developed by Zaytech which has various other software offerings on the Clover Marketplace such as the ever-popular Smart Online Order software with over 200 5-star reviews and thousands of users can attest to the developer's dedication to ensure that their software works.
No Additional Hardware or Software
Our kiosk software requires no additional hardware or software to function and works with the Clover devices you have at your location, just install the software and customize it to your liking, and you are ready to turn your Clover device into a self-service kiosk.
Portfolio
What we have created
Does the software work with any Clover device?
Due to screen sizes, the use of our kiosk software has been limited for use with the Clover Station, Mini, and Duo line of products as other devices either lack a screen or have a screen too small to be used comfortably by your clients.
How do I customize the kiosk's appearance?
Once installed you will be able to make an account on the Smart Online Order web dashboard that will link to the kiosk and allow you to make changes to the kiosk software through the said dashboard.
What is the price of/how can I learn more about the kiosk?
To learn more about the kiosk please use the demo links available on the website to schedule a Zoom meeting in which further details can be discussed.
Does this include a loyalty system?
With the addition of a Smart Online Order white-labeled branded app for use with your restaurant it can add loyalty features for use with your branded app. Schedule a meeting to learn more.