Ask Zaytech
We are here to answer all your questions related to Social Media Marketing and Branded Mobile App. ( You Ask – We Answer )
Why is Social Media important for restaurants?
Social media is important because it allows you to communicate directly with your existing and future customers, giving you instant feedback on what they are thinking. This could be about an update to your menu, a change in business hours, or news related to the restaurant.
How much should I spend on social media marketing?
The answer to this question depends on a number of factors, including the size of your restaurant, how much traffic you get from social media, and whether or not you have an established brand. However, in general, it's a good idea to spend at least 20% of your marketing budget on social media marketing.
What a mobile app can do for my restaurant?
A mobile app will help you grow your business by providing customers with a better user experience. Most people use smartphones to search for local businesses, so having a mobile app is essential if you want to be found. A good mobile app can also make it easier for people to order or pay for their food, which saves them time and makes them happier which ends up in repeat customers.
What is Social Media Marketing?
Social media marketing is the process of using social media platforms and websites to promote a product or service. It's also a form of online advertising that allows businesses to build brand awareness, generate leads and drive sales. Social media marketing can be done through a variety of channels, including blogs, social networking sites and video sites.
Companies often use social media to promote their brands by sharing news, launching contests and posting coupons or discounts.
Who needs social media marketing?
Any business that wants to reach customers through the internet needs a social media marketing strategy. Social media is an effective way for companies to build brand awareness, connect with their audience and generate sales leads. It's also a great way for businesses to find new customers by targeting specific groups based on demographics and interests.
How to measure social media marketing success?
The first step is to define your goals. This will help you figure out what success looks like and how to measure it. If you don't have a clear goal in mind, it can be difficult to track your progress. For example, if one of your goals is "increase sales by 10% this year," then you know exactly what success looks like (an increase in sales).
How to get most out of Facebook ads?
Facebook ads are a powerful tool to help you reach your customers. However, they can be difficult to set up and optimize. Here are some tips for getting the most out of Facebook ads:
1) Keep it simple. Don't try to do too much in one ad. Focus on just one piece of content or offer at first, then test different variations of that ad over time until you find what works best for your business.
How to choose the right Marketing Agency?
When you're looking for a marketing agency, it's important to find one that specializes in your type of business. If you own a restaurant, then you need to work with an agency that has experience working with restaurants. A company like Zaytech can be a great choice because we have worked on projects similar to yours before and know what works in the industry. Contact us
Do I need to shoot videos for my restaurant?
"Shooting video for your social media content is super important for your restaurant Here is why" Shooting video for your social media accounts is now more important than ever. Now that iPhones and other smartphones can shoot in 4K, the stage is ripe for restaurants to produce high-quality restaurant video marketing and promotional content. Video is a great way to connect with your audience and grab their attention. People are more likely to engage with video than any other kind of content across all social media platforms. Websites with video enjoy more web traffic, and emails with video enjoy higher click-through rates.
Should I be responding to my restaurant reviews?
It is not only important but crucial to respond to all your reviews good or bad. You want to respond to the good reviews to show you appreciate their business and they are more likely to become loyal customers. It is equally important to respond to negative reviews as well. If a customer leaves a negative review and a restaurant doesn't respond the reviewer has the final say. Public response to a restaurant review is the opportunity to share your side of the story and show potential customers how you would react if something went wrong during their dining experience. Lastly responding to google reviews in particular also helps with your SEO.
How do I respond to my restaurant reviews?
First want to use the reviewer's name and thank reviewers for visiting your restaurant something simple like "Thank you for visiting with us" Use the reviewer's

Highlight something positive from the review. Even if the review contains more bad than good, bring attention to something positive the reviewer wrote. 

Apologize for what went wrong. Everyone makes mistakes. When you apologize to customers, you come off as humble and receptive to feedback instead of arrogant or vengeful.

Explain why the mistake or problem highlighted in the review happened
Explain the changes that are being made to ensure the error won't happen again. While the reviewer may not care why something went wrong because it already ruined their experience, this response can give potential customers some clarity. 
When you explain why the problem won't happen again, you're showing customers that you take their feedback seriously. The goal of this strategy is to reassure potential customers that they won't encounter a similar problem during their visit because you learned your lesson. 
 Move the situation offline 
Try to take the conversation offline. In your response, provide the disgruntled customer with the contact information for a specific company representative. Doing this demonstrates that you are receptive to feedback and are approachable. It also shows that you take customer service seriously and want to address the issues that the customer mentioned in their comment.
Once you've addressed all of the above, it's important to invite the customer back to your establishment so that you can win back their business. Oftentimes, this is followed by a commercial gesture like a discount on their next visit.
These response tactics will increase the chances of potential customers choosing your restaurant despite some poor reviews.
How many times should I be posting on social media per week?
How many times you post on social media is up to you, but it is important to stay consistent. However, it is best if you try to post at least 5 times a week. If you post too little (for example 1 post/week), your content will get seen by your audience, but they will most likely forget about seeing it and your brand fairly quickly. If you post, for example, 5 times per week, you will 5x your visibility per week and your audience is most likely to remember seeing your post(s) and your brand. If you post too much though, your audience might look at you as spammy and can get annoyed. A good solid number would be posting about once per day.
How much does a branded app costs?
If you think that a branded app would be too expensive, consider the benefits: compared to them, it would be nothing. A branded app will give your business a more direct connection with customers. Because people can download the app directly from Google Play or Apple's App Store, you won't have to rely on third parties—and that means it'll be easier for you to update and control the content!
What are the advantages of a branded app?
Here are some of the advantages of a branded app.
1) You'll be able to connect with customers in a new way.
2) It's a great way to market your business and have orders print to the kitchen printer
3) Your customers will appreciate the convenience of being able to access your business from their phones.
4) It can help you stay organized and efficient.
5) It's a cost-effective way to reach more people.
6) It's a great tool for customer retention.
7.) Save Money by having customers order from your own Branded iPhone and Android App
8.) You can create Reward Program to incentive customers who download your App.
9.) Customer can easily Re-Order on your Branded App with a few simple clicks.
10) With your Branded App you'll be able to track Online Sales and send push notifications.
Is mobile app important for restaurant business?
If you own a restaurant, then yes, it is very important to have a mobile app. In fact, 73% of people prefer using mobile apps over websites and other sources.
A mobile app can help you connect with customers in so many ways. It allows you to deliver the best customer experience possible by providing them with useful information at their fingertips.
Where to get a branded app?
If you want to get a branded app for your restaurant, consider Zaytech. We are a leading Software & Media company in the USA, and we have worked with many restaurants to build their own apps. Our team of developers is highly skilled and experienced; they can help you create an app that will boost sales, improve customer experience, and save money! Contact Us
How is having customers order through a Branded App different from the online ordering on my Smart Online Order page?
Customers can always order from your Smart Online Order page, but having your own Branded App just takes the online ordering experience of your customers to the next level. First, an app is available for your customers right away when they unlock their phones and all they have to do is tap on your app and it will open up. This takes fewer steps for your customers to see your menu vs them having to go to your website, and find the Smart Online Order page. The app also allows your customers to earn Loyalty Points with each purchase. These are rewards that they can redeem with future purchases at your business. It is in fact, rewarding them for being loyal customers.
What is the App monthly maintenance fee for?
As certified app developers we charge a monthly maintenance and hosting fee
We insure that our mobile Apps are current on all new operating systems
We make sure you are up to date on Google and Apple App Store
We ensure all mobile apps have security protocols in place
We provide mobile app technology updates
We provide live US-based Customer support 7 days a week
Articles to help you grow your restaurant business.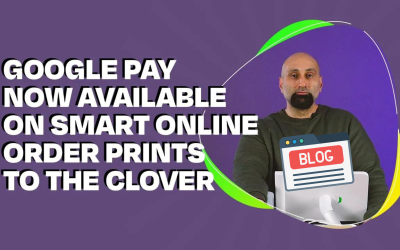 Welcome to another exciting update from Smart Online Order! We are thrilled to announce that we have integrated Google Pay as a payment option for our platform. In this blog, we will discuss the benefits of Google Pay and how you can enable it on your online ordering...