How the branded app helped La Gelati
Interview with La Gelati
Every business has its own unique problems, but there are some goals that we can all agree most businesses want to accomplish: to improve sales and keep their customers happy. In an effort to listen and share about how our Branded Apps have been helping our customers with their everyday operations, we had the pleasure of interviewing one of the owners of La Gelati, Hussein Saad. Zaytech's branded app has contributed to the evolution of La Gelati's exceptional online ordering experience which has kept their customers happy and brought them the results they were looking for.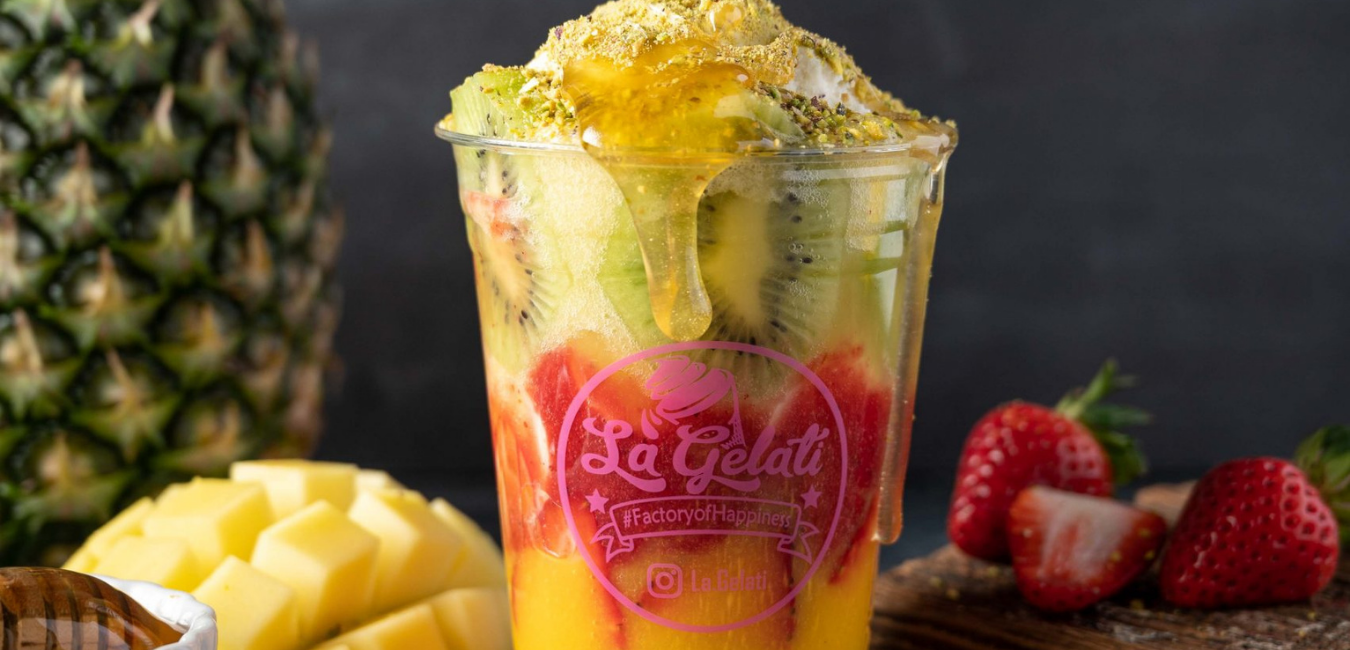 The Story of La Gelati:
"When our customers first tried our ice cream, they said that its flavors transported them back to their childhood" – Hussein Saad 
Since 2014, La Gelati has been offering its community a mix of ice cream with Arabic flavors as well as traditional gelato ice cream. This isn't your regular ice cream corner shop, they do specialty waffles with the works, pop rocks Redbull, and delux smoothies. La Gelati's original mission was to bring homemade Ashta ice cream from Lebanon to America. The ice cream recipe came from Hussein's grandfather, who had an ice cream shop back in their home country. While growing up, Hussein was always working with his grandpa in the shop, learning the ins and outs of all things ice cream. 
Hussein's dream was to come to America to continue the legacy of his grandfather's recipe. La Gelati found the opportunity to open an ice cream shop in Dearborn Heights, MI, which they saw had a big Arabic community established. Hussein along with his partners Yousef Khalaf and Zainab Bazzi recognized this and decided that it was the perfect location to open to serve their community. 
La Gelati has proven to be a success as they opened up a second location which continues to feature other savory unique items that brings the community together over ice cream and culture.  Not only is the Arabic community loving it, but La Gelati brought a taste of Lebanon to American pallets as well. Now La Gelati is distributed in more than 50 locations as wholesale and will soon have franchise opportunities.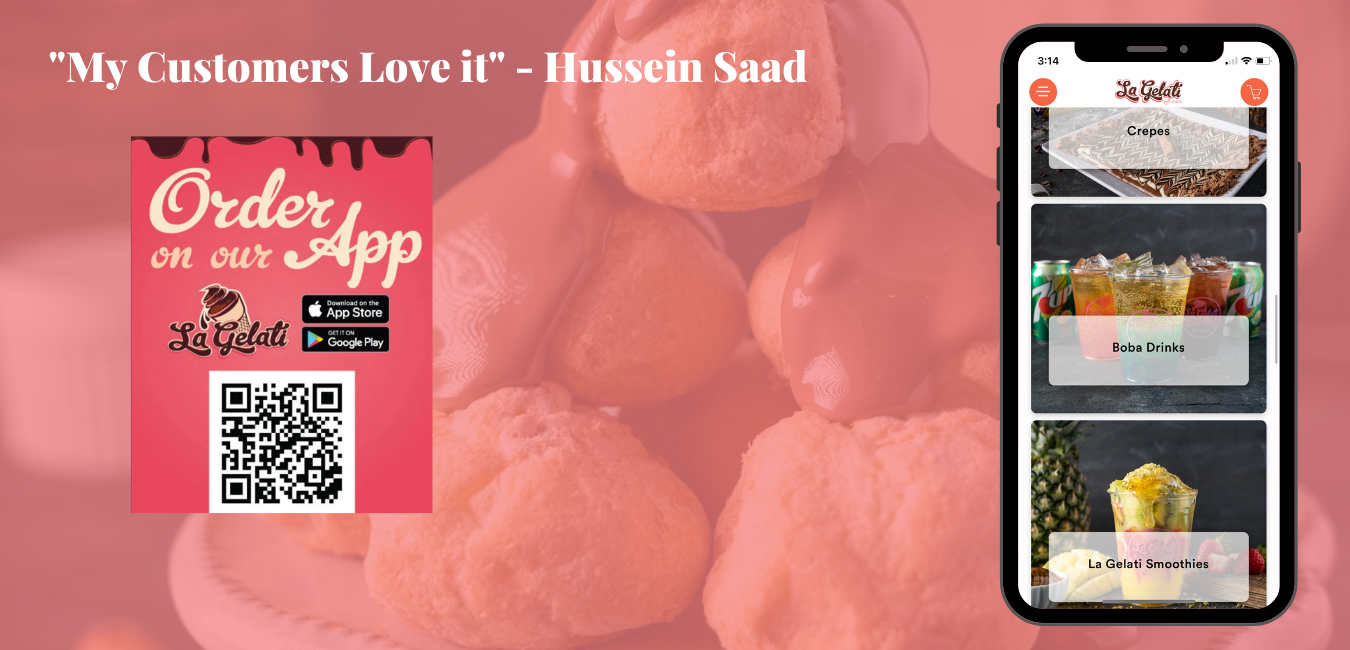 How has the branded app helped you with your business?
"Time is valuable, I don't want my customers to wait 45 minutes to make an order when the line is out the door. I want to make the work easier and faster."
Before clover, we had an old cash register machine and we were wasting time. We were so busy and we couldn't handle it anymore. The clover came at the right moment with online ordering and the app. It's easier now.  As the owner, I am responsible for developing the store so that it's easy for our customers to order and to make their life easier.
We use the text-message feature provided by Smart Online Order. Our Customers don't waste time waiting in line; they pay over the app and come to pick-up when a text is sent to them, letting them know that their order is ready. 
The app has helped us in two ways. Number one customers don't waste time, they can just choose what they want through the app, they pay over the app, and come to pick up their order. 
Number two the app has helped La gelati increase its sales. When customers come to the app they can see all of our other menu items and it's attractive. Instead of ordering one smoothie now, they can order a crepe too. It helps customers to see all of our menu items and not get bored of ordering the same thing over and over.
If we see a customer waiting, I have trained my staff to let them know that they can save time by ordering online in our app. The app works directly with our system and I can track everything that is coming through by order and customer. With our previous system, we could not do that. 
"It's all a matter between us and the customers"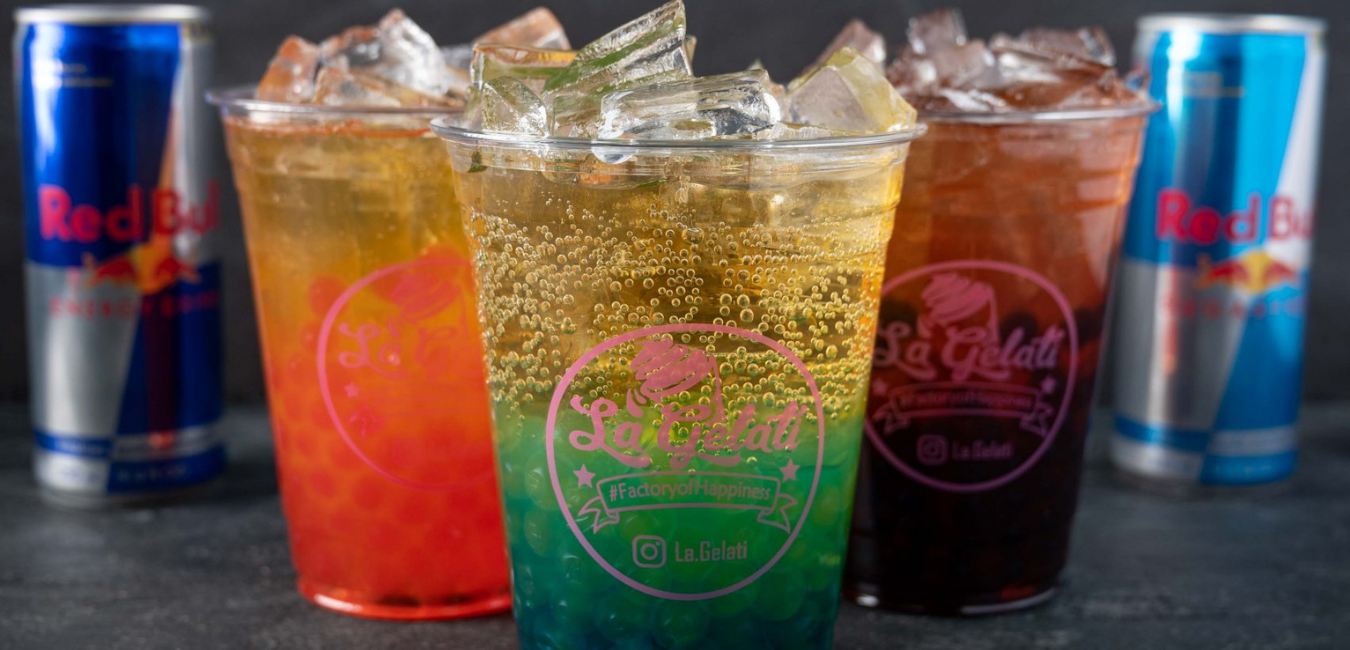 How has the app impacted the online ordering experience of your customers?
"Having the branded app and online ordering has helped my business a lot"
No one has time to google La Gelati.com. Everyone likes to just scan and that's it; it only takes a second. So the app has enhanced the ordering experience for our customers. Ordering on the App is better than sending customers to order on a website. Searching a website is the old way of ordering that isn't as quick and user friendly. You need to be in tune with the way technology is moving. To make it even easier and effortless for our customers, we have put barcodes around the store that they can scan to download. 
Also, we notice that when customers go to the app and order online they are ordering more items because they see our whole menu. If they go to order one item, they see pictures of something else on the menu and add them to their basket. The app has pictures and descriptions of all of our items. This is a great feature of the app. The developers are constantly making the app better and better.
Has the app helped you to improve profits?
"Our goal is to improve our online orders to a point where we don't have to have to have a cashier anymore"
We have increased our profits by 10% since using the app. Our profits are better in a few different ways. One way is that when a person goes on the app to order ice cream, for example, they commonly add a pairing item to their basket, such as a crepe. That is first how our orders went up.  Second, I don't need to put as many people as before to take orders at the cash register. Since I have online orders, I only need to put one person taking orders instead of 3 cashiers, and I can put more people to focus on fulfilling the orders. My goal in 6 months is to increase my online order rate to 50% of our customers ordering through the app. A bigger goal we have is to eventually go fully online and not have cashiers anymore.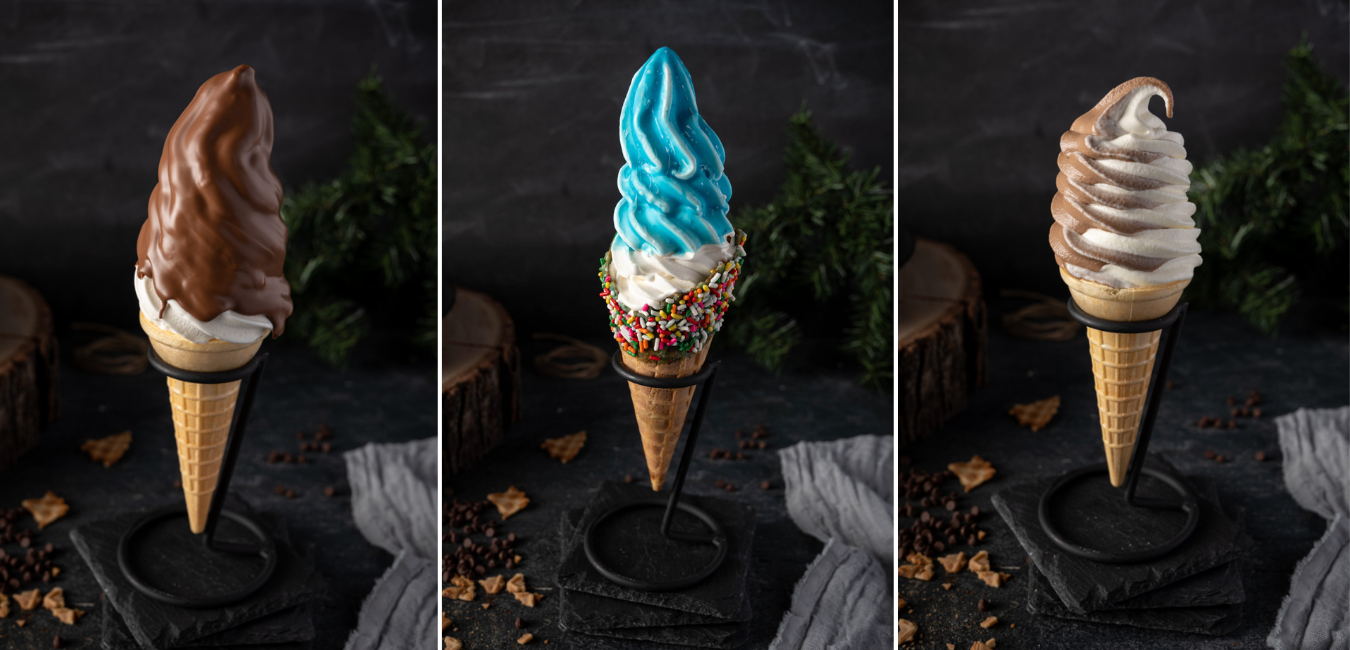 How has the app helped you cut 3rd party app fees?
"You need to always take care of your customers"
Whenever I see our customers ordering through third-party apps like Doordash I let them know that they get charged extra fees and if they download our app, they can save on those fees. In turn, we save on the fees as well.
How has the app helped you with your brand awareness? How do your customers like it?
"People are actually loving it"
I put the time and effort into promoting the app. I put the barcode on all my products asking people to download the app. All our cups, all our boxes, everything, and even the bags have the app barcode on them that says "skip the line and order online through our app."  Everyone has a phone nowadays. When we see customers waiting we go to them and say we see you waited a long time because you didn't order online. Next time scan the barcode and order through the app and pick up the order right away. It shows our customers and potential franchise that we are a serious business and up-to-date with the current technology. It also helps us to stand out from the competition.
What would you say to a small business restaurant that doesn't think it needs an app like a bigger chain business? 
"For any small business, it's a great idea to market your product through the app. It will help your customers see what they have and to order other stuff." 
They are going to help the customers see new items and improve their sales. It's a new idea, and yes, big businesses do have apps, but small businesses can benefit too. Everyone gets used to it and our returning customers love it. The app will majorly help with the ordering experience of a customer. When we get busy we tell our customers over the phone to please order in our app. When we are extremely busy and customers call, I have trained my employees to tell people to hold or that they can order online in our app. If you want to be successful you need to work hard, it's not going to come easy. 
Would you recommend other restaurants to have a branded mobile app?
Of course, I recommend it to everyone. But you need time because it's not going to be easy. Nothing is easy and you need time, but in the end, it's worth it. Even if 5% of people order through that app, it's helping you and putting less pressure on workers, because your workers are very important for your business. You need to make the customer's life easier by ordering through the app and giving the workers a moment to breathe. As much as you work hard you will see the benefits.