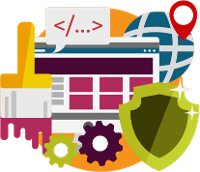 Build me a Website
Let us build you a modern and user friendly Website
Do you need a new website?
Is your website outdated and needs a more modern look?
Not having a website reduces the perceived value of your business – especially your customers.
We understand that you are busy running your business and don't have time to create a website. Let us design and build for you a clean modern website that will help you attract more customers.
We have helped hundreds of Clover merchants with their websites and we understand their needs.
According to the Small Business Administration, 50% of Internet sales are from new customers. Having a website significantly improves your customer reach no matter what services or products you offer. Websites Are Not Just Local, They Are Global.
Each initial setup plan requires a monthly fee.
A single ordering page
Your own domain name
Up to 3 page Website
Home Page
Contact Us
About Us
Up to 4 page Website
Home Page
Contact Us
About Us
Menu
Complex sites or sites 5+ pages
Home Page
Contact Us
About Us
Menu
and much more…
Book a meeting with us to discuss
Frequently Asked Questions
Q.) How long will it take for my website to be built?
A.) Depending on the number of pages you may need and its complexity, it can range between 5 to 7 business days
Q.) I don't know how many pages I need on my website?
A.) That's no problem, we recommend starting with 3 or 4 pages and then we can always add additional pages over time or when needed.
Q.) What if I already have web hosting and a domain name, can you still build me a website?
A.) Yes, whether you want to use our hosting or your own hosting, we can still build you the website. If you already have a domain name, we can use your existing domain name.
Q.) What if I am not happy with the website after it has been built?
A.) We will continue to make changes until you are happy with the results. We will work with you step by step. If you decide to cancel, there won't be any additional fees. We will try our best to make sure that ultimately, you get the best results and experience. Our goal is to work with you as a long-term customer – we want to work with you for years to come.
Q.) Can you also add Online Ordering to my website?
A.) Yes, of course. We can integrate and add unlimited online ordering to your website. See our other app "Smart Online Order" for more information. There is no additional payment gateway and all online orders will print directly to your Clover POS. The money is deposited into your Clover merchant account
Q.) Can I update the website myself after it has been built
A.) Yes, you may. We will give you the username and password to your website and you are more than welcome to make changes. If you make a mistake, we will be more than glad to fix it.
Q.) What does the monthly subscription offer?
A.) The monthly subscription offers platinum support; this includes improvements and updates along with search engine optimization. At any time, you need changes to be completed on your website, you may call or e-mail us. We monitor for malware, scan for viruses and make sure the website is running efficiently
Q.) I'm hesitant to start because I don't know anything about websites and I don't know if it will benefit my business?
A.) We recommend trying it for 60 days, if you don't see any benefits to your business then you can cancel. We are very confident that after the website is built and after sharing the website link with your family, friends, and customers they will value your business much higher.
Q.) Does the website build also include adding description and images to each of the Order Online Items
A.) We don't add the description or individual images to each of the menu items, we will guide on how its done and show you some videos on how to add the description and images to each item. Then you can add it yourself. If you want us to do it for you, please let us know and depending on our schedule, we can see if we can make that arrangement. There will be an extra charge.
Q.) Great! I want to start, I'm ready to update my existing website or need a brand-new website. How do I start?
A.) You can either call or e-mail us, or simply install the "Build Me a Website" app by going to Clover.com After installing the app, answer a few questions and we will begin building you a website. That's it. Now, sit back as we help your business go to the next level.
Q.) Does building a website also include custom domain email address?
A.) One your website is built you will be given access to cpanel / webmail to create a few email accounts. However, we don't offer support for email addresses. Our specialty is building websites and this service is for building a website and not setting up custom email addresses. We recommend using Gmail as its more reliable and easier to setup.